What is an Objective on a Resume?
Resume objectives give a summary of the applicant's career goals and job achievements to help an employer to evaluate the employee's appropriateness for the position. Follow these 3 resume objective rules to create your perfect resume objective:
Place the objectives at the very beginning of the resume to make sure an employer definitely reads them.
Cut down the size of objective list to 3-4 sentences. Being brief and sticking to the point is also a skill to learn.
Including professional experience into the objective.
Resume objectives can be divided into at least 2 paragraphs:
The first paragraph should state a short summary of your career.
The second paragraph should state the objectives and expectation of the prospect job. The second part is the most important as all the employers are concerned with their own needs and the only thing that troubles them is whether you can bring any profit to the company.
"I would like to take the post of the sales manager so that my experience can be effectively utilized to increase product sales volume by developing a dynamic team"
"I aspire to obtain a position of the software specialist where my seven years experience can increase the bottom line"
To sum up the best objectives for your resume, we may note the seven "cardinal virtues":
Place the objectives at the beginning
Mention your professional skills and necessarily your achievements
Look for companies objectives to adjust to employer's needs
Be precise and argumentative
Don't write general unfinished sentences
Often used sentence openings are "my objective is...", "my goal is...", "I am seeking a position...", "I would like to take/obtain the post..."
Remember to take into consideration employer's benefits.
Remember that an effective summary statement, or modern resume objective, quickly defines who you are and how you will improve a company. Focus your energy on summarizing your strongest areas of expertise and professional accomplishments.
Professional Resume Objective Samples
Check out some more resume objective samples below:
General resume objective example:
Professional Summary
A proven leader on multiple projects for international brands. Led a strong team of five creatives through conception, copywriting, design, and delivery. Spearheaded numerous meetings between our in-house team and brand representatives to successfully deliver project assets.
Software developer resume objective example:
Professional Summary
Experienced software developer with strong technical knowledge and coding skills. Successfully ran and launched three positively reviewed app updates in four months. In-depth technical knowledge of app and web page development with tailored experience in C#, .NET programming, and Java Framework.
Auditor resume objective example:
Professional Summary
Auditor with +4 years of experience in communication, auditing, and problem solving. Implemented cost-cutting measures that saved current company 12% annually.
Sales resume objective example:
Professional Summary
Passionate Sales Associate with +12 years of experience across multiple lauded brands. Expert cashier able to process 35 guests per hour, register 2-3 loyalty cards per shift, and increase items per transactions through amiable suggestions.
Teacher resume objective example:
Professional Summary
Entry-level teacher with a passion for history and social studies. Able to influence young minds to consider their contributions to life and society through historical examples and comparison. Successfully tutored and increased student test scores from and average 70% to 89%.
Accountant resume objective example:
Professional Summary
Experienced and dependable accounting professional with over eight years' experience in payroll, billing, and analysis. Up-to-date knowledge of Automatic Data Processing (ADP) and generally accepted accounting principles (GAAP). Looking to expand accounting skill set with growing firms.
Web developer resume objective example:
Professional Summary
Motivated web developer and designer with experience creating custom websites through CSS and Ruby on Rails. Well-known collaborator with proven track recorded creating assets for group projects and enthusiastic member of office party planning committee. Well-versed in HTML, JavaScript, MS Access, and SQL. Pursuing senior developer positionn in fast-paced environment focused on customer experience.
Manager resume objective example:
Professional Summary
Senior manager experienced in overseeing multiple departments of 10-15 members each. Accomplished department head known for efficiently leading teams to 92% success rate on objectives and key results (OKRs) for the past six quarters. Seeking new opportunity to expand growth for a mid-sized firm.
Great Resume Objective Statements for 9 Popular Job Titles
Learn More About Resume Objectives
Your resume is your ultimate marketing tool during the job hunt. A strong resume consists of strong content: acquired skills, professional qualifications, work history, education, and training credentials. However, your brilliant career path can come to a screeching halt if you fail to snag a recruiter's attention.
Recent studies revealed that recruiters scan resumes in 6 seconds or less. Six seconds! Your only hope to pass that initial skim is to write a compelling and eye-catching resume objective.
The resume objective of the past outlined your professional hopes and dreams. Today, your resume objective quickly showcases your professional achievements and demonstrates how you alone can help advance the company.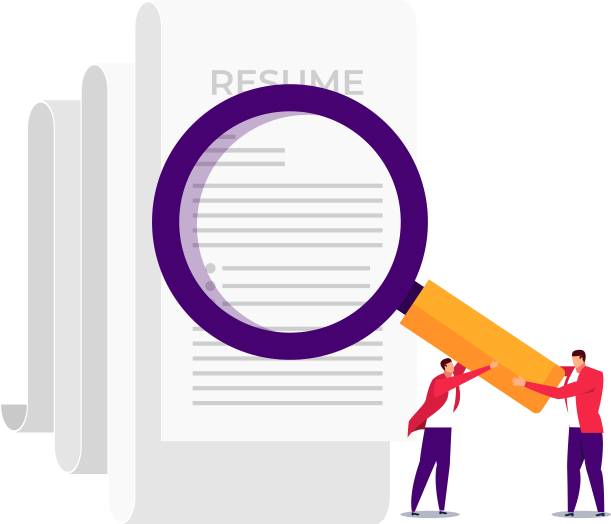 Expert Tip:

Skim the job listing or advertisement for repeated tasks or responsibilities. These crucial phrases, or keywords, are the keys to landing an interview invitation.
Rules for Writing Great Resume Objectives
Let's review our seven great resume objective pillars by looking at the following successful examples:
"Skilled and creative lead engineer with 10 years' experience overseeing products through conception, development, and publication. Advanced knowledge of JavaScript software. Proven team leader with collaborative spirit."
"Digital marketing professional with 10+ years of experience. Offering specialization in email with experience leading teams towards increased customer loyalty and retention."
Final Thoughts on Resume Objectives
Our final Bit of Advice:
Your resume is your big chance to make a lasting first impression – be sure to introduce yourself as a secure and reliable business partner. Write an objective statement that perfectly summarizes your positive abilities and successful history. This professional document is crucial in launching what could be a fulfilling and long-term career.